Teaching Culture!
Events > Intercultural Lectures
Social Programme at the first project meeting at Achill

Intercultural-quiz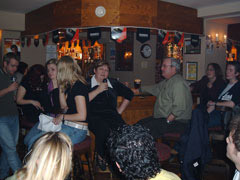 On Tuesday evening, all project partners took part in an intercultural interchange when the people from Achill invited us to a karaoke night. A bus took us to a traditional, local pub where they had prepared a quiz with very tricky questions about Ireland and especially Achill. The quiz was very funny and we enjoyed being in groups with the Irish people, some groups took advantage out of this but I guess hardly anybody was concerned about that. After the quiz, we started singing karaoke. It was quite interesting to hear some of the Irish songs that the inhabitants sang for us.

-